Vale Company manufactures various FRP doors to meet any standard your entrance needs may require. All models can be altered with custom reinforcements to insure hardware retention in the most demanding of venues.
All Vale FRP doors are constructed with interlocking aluminum edge trim designed for easy component breakdown and field repair. Most of our competitors do not offer this important feature. Our designers believe one door model cannot possibly meet all potential needs as in the case of concealed hardware application where others are forced to cut, splice or weld their side rails to accommodate concealed vertical rod hardware, thereby weakening the door leaf. Additionally, in the case of full or double lite doors most of our competition must change out these openings from FRP to aluminum style and rail doors because the vision lite cutouts weaken their narrow style product beyond acceptability. The Vale V-600 is the best solution in these instances and does not aesthetically denigrate the building exterior by mixing FRP and aluminum finishes.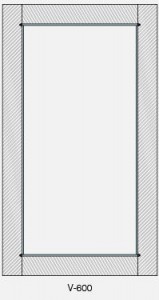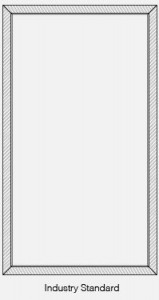 ---
Our standard model is priced competitively and offers a rail system that has a tube face thickness 23% heavier than the competition. For School Districts this model has both 6″ top and bottom rails with a 1/8″ wall thickness. The V-250 is particularly applicable with surface applied hardware.
This medium style door can perform under the most difficult of circumstances. With a 1/8″ tube face thickness and a 3/16″ hinge wall thickness this model can withstand the toughest traffic and abuse. The V-350 is particularly useful where concealed hardware application is employed.
The flagship of our FRP door line the V600 is simply designed to be the heaviest most durable FRP door in the industry. With side rails that are 5 3/4″ across the tube face this model will withstand all the abuse found at industrial buildings and secondary schools and still perform flawlessly. Constructed of 6063-T6 alloy this product can be produced at widths up to 48″ and heights to 120″.
---