FRP panels are particularly useful in entrances where security or privacy is a concern. Constructed from our VC-95  .120″ face sheet materials these panels are offered in 1/4″, 1″ and 1 3/4″ thicknesses. 
---
Model VC100
Designed to match our door surface the VC-100 panels are 1″ thick and insulated to provide the perfect complement to your entrance needs when glazing is not preferred.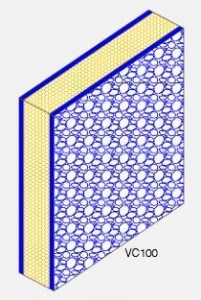 Model VC100-175
This insulated 1-3/4″ thick panel is particularly useful in applications where maximum insulating capability is required.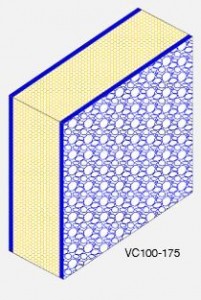 ---
Model VC100-75
This flush 1/4″ double faced panel can be used in our vision kit material to create various combinations of two-tone color and inlayed designs.



Model VC100-HD
This 1″ heavy duty panel has 1/8″ thick 6063-T5 aluminum in 3/4″ channel configuration as perimeter reinforcement. Our VC-95 .120 face sheet material is laminated to 25 PSI. Polystyrene core material with a maximum flame spread of 25. This reinforced panel is particularly useful in sizes greater than 20 sq. ft.