Hardware
As a certified

Ingersoll Rand

hardware applicator Vale Company has many years of experience mounting door hardware of all descriptions. Whatever your security requirements may be Vale Company will properly design the door and hardware package to meet your needs. Hardware application and retention is perhaps the most critical concern for Facilities Managers.
At the Vale Company adequate reinforcement for all hardware systems is our primary concern as independent lab results has confirmed a closer bar pull off test (NCTL-110-9594-3) of greater than 8000 lbs. (Exceeded testing equipment capacity) which demonstrates our commitment to providing the best quality our Industry can deliver. With the Vale Company hardware factory applied stays applied.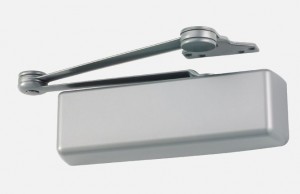 ---
 The Vale FP-8 recessed flush pull is designed principally for our full line of FRP doors.  It provides a low profile attractive appearance which results in Vandal free security not found in traditional projected pull handles.  It also meets ANSI standards for ADA accessibility while providing additional safety over other designs that protrude from the door surface.


 The Vale flush pull handle is comprised of extruded 6063-T5 aluminum and has a welded assembly. It is available in class 1 clear or dark bronze anodized finishes or in Kynar painted custom colors.  Our doors are internally reinforced to accommodate our flush pull and installation is accomplished without external fasteners.